Save the date: "Citizens & Civil Protection Interaction: how to reduce the Risk Perception Action Gap" Workshop
On June, 27, the RiskPACC Project will launch its first awareness workshop in Brussels, at la Maison des Associations Internationales in Rue Washington 40, Ixelles.
The event will be run on an hybrid format, both virtual and in-situ for those who are not able to join the Belgian capital but are still eager not to miss the achievements RiskPACC has registered.
The online auditors will have the chance to participate in the event until 14:00 CET. Differently, the workshop will consist of a theoretical and practical part for the in presence participants, who will engage in working groups during the afternoon.
More specifically, while the morning will be dedicated to presenting the RiskPACC goals, its purpose and the valuable outcomes so far measured, the afternoon session is the heart of the Workshop as it will enable the audience to give voice to their opinions through open discussions.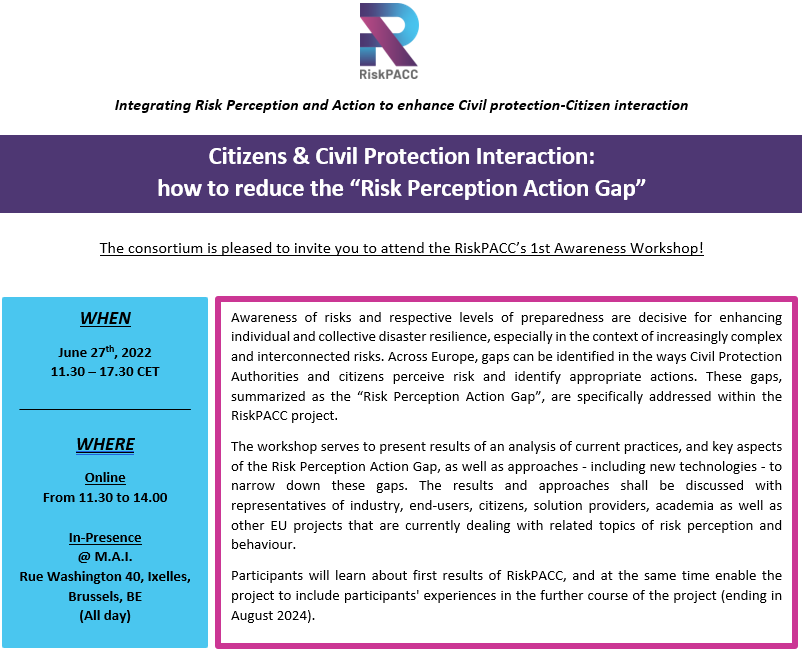 If you want to register to such event, you are invited to fill in the survey at the link below:
https://ec.europa.eu/eusurvey/runner/RiskPACC_Awareness_Workshop
Ensuring your participation, you will take part to an incredible opportunity for the challenging process regarding how to bridge the gaps between Civil Protection Agencies (CPAs) and citizens.
You cannot miss it!